A Rejuvenating NTID Alumni Weekend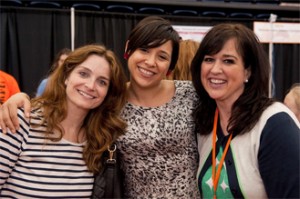 Feedback is the greatest gift an interpreter can receive. Every criticism comes with a chance for growth, and every compliment is an inspiration to be better. The first weekend of May, I was blessed with the opportunity to return to my Alma Mater, RIT National Technical Institute for the Deaf (NTID), for an Alumni Weekend that provided some really great perspective.
Rochester, NY has the highest per-capita deaf population in the United States, and is the place where I began my journey as an ASL interpreter. It was incredible to return to this place, welcomed with open arms by so many colleagues and friends. Living in NYC can feel isolating at times– in Rochester, however, the sense of deaf community is really powerful! Alumni, students, and teachers all gathered for the Imagine RIT event, and I was honored to be one of many presenters. I told the audience my story, and how I have been working to transform unexpected media attention into social awareness.
Interacting with students was my favorite part of the event, simply because of the amazing energy college students have! Seniors asked a lot of questions about post-graduate life, and I did my best to provide advice about the ever-growing ASL interpreting field. Putting emphasis on continuous learning, and integrated mentoring, I did my best to remind future interpreters that the staircase of professional growth never ends. In return, the enthusiasm of the students reminded me how important it is to be open to life's possibilities. Excited young people fuel my fire and motivate me to be persistent in my pursuits. It was an incredible confidence booster, seeing so many fellow advocates and allies trying to make change happen.
A little community support goes a long way. I left Rochester feeling refreshed, renewed, and truly inspired by the students and other alumni. From this experience, I take away a lesson in humility, and the power of positivity. Meeting so many educated young people with revolutionary ideas is humbling, and motivates me to continue working for equal access, open communication, and understanding of deaf culture. I eagerly look forward to watching future NTID graduates make the world a better place!