Celebrating 30 Years of the ADA!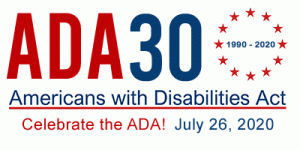 On July 26, 1990 the Americans with Disabilities Act was signed into law. This landmark legislation was designed to recognize and protect the rights of disabled citizens to have the same access and opportunity in this country as anyone else. This includes opportunities in education and employment, as well as opportunities to participate in everyday life — such as healthcare, banking, recreation, entertainment, or travel — without facing additional barriers.
Of course, with the passing of the ADA the work toward social justice was really just getting started. The ADA was by no means an instant solution to systemic oppression and it did not end disability discrimination, but it has served as an essential toolkit for people to fight for their legally guaranteed rights when necessary.
To celebrate the 30 year anniversary of the Americans with Disabilities Act, people are using the hashtag #ThanksToTheADA to highlight the many ways the world opens up through accessibility. Be sure to follow the hashtag on Twitter, Facebook, and Instagram throughout the month of July, and feel free to share your own #ThanksToTheADA moments. We also recommend the following the #ADA30 hashtag and the ADA Action Network (Twitter  | Facebook ) for more updates.
Below you will find additional resources to learn more about the Americans with Disabilities Act and how it has impacted the lives of US citizens for more than 30 years.
WHAT IS THE ADA?
HOW DOES THE ADA RELATE TO DEAFNESS + HEARING LOSS?
ADA AND EMPLOYMENT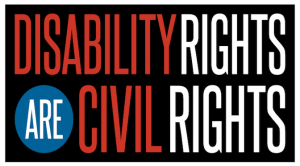 Since 1990, groups and individuals within the Disability Community have worked, advocated, litigated, protested, and lobbied to make incredible advancements toward equal access with the support of the ADA. As time goes on, we are beginning to see inclusive elements being built right into organizations and institutions – from Universal Design in architecture to captions and audio descriptions on web content – people are coming to understand the ways these features can actually benefit EVERYONE! Three cheers to 30 years of progress under the Americans with Disabilities Act.