The Silver Lining of a Hurricane
Since being on national television, I have received so much unexpected attention! Attention from the media, from my friends, from total strangers– it's very flattering, if not a bit overwhelming! Of course, the first thing people want to ask about is my experience interpreting Mayor Bloomberg.
Let me say, first and foremost, that the opportunity to serve New York City's deaf and hard of hearing community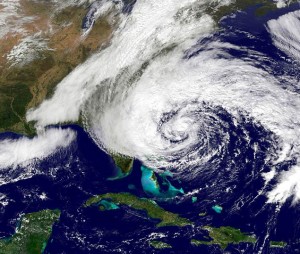 during a time of crisis was one of the highest honors I have ever achieved. Prior to Hurricane Sandy, I had worked a number of jobs underneath the mayor's office, but had never worked with Mr. Bloomberg directly. When disaster hit, the agency I work for selected me to be on Bloomberg's team of interpreters because they recognized my professional capabilities. I take a lot of pride in that. I was chosen to be a voice, reaching out to both the hearing and hard of hearing community, saying "we are all in this together." It was stressful, yes, but the positive response has been really encouraging.
Its almost impossible for an interpreter to walk into a press conference regarding an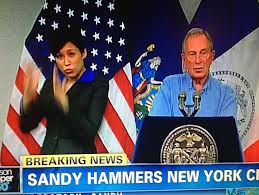 ongoing natural disaster fully prepared. Like most interpreting jobs, there was no script or briefing. I did my research on the train, en-route to City Hall, keeping myself up-to-date on what exactly was occurring. Since I knew my audience was going to be very broad, I decided to employ methods which felt the most inclusive to the full spectrum of the deaf and hard of hearing community; which meant, in addition to signing American Sign Language (ASL), I would mouth the words very clearly. This seems to have sparked a lot of discussion about my signing style!
My style of ASL is very expressive. I am so comfortable with ASL because it is my first language, and have always used it to communicate with my mother, siblings, nieces,
and nephews. I understand the need for facial expressions and active body movements, particularly when expressing uncertainty, danger, or consolation, as I was during the hurricane. The fact that I received so much attention for simply doing my job has raised the unfortunate truth about accommodations for the deaf and hard of hearing in America. That my use of ASL struck so many as a novelty, shows how unfamiliar most hearing people are with this language.
In the wake of that experience, it is my hope to use all the attention for good. In our 2012 pop-culture society, media is an integral part of our day-to-day lives. I strongly feel that the universe put me in the media spotlight, not for fame, but to educate my fellow Americans about the 48 million deaf and hard of hearing citizens living in this country, and break down the communication barrier between us all. I feel very passionately about bridging the communication gap that has existed for far too long, and I am blessed with the opportunity to be a liaison between two wonderful cultures.
Thank you for visiting my blog! I sincerely hope you enjoy following the active pursuit of my destiny! If you would like to contact me to discuss my services, please check out the "Contact" link at the top of this page.