10 Reasons ASL Lessons Make A Great Gift
The Christmas season is in full effect! All across the country, people are giving gifts meant to demonstrate affection, bring joy, and improve the lives of our loved ones. If you are looking for the perfect gift– one that keeps on giving long after the holidays come to a close– you should consider American Sign Language training.
10 Reasons ASL lessons make a great gift:

1. ASL is a distinctly American language. Made right here, in the USA!
2. It is estimated that more than 500,000 people in the United States use sign language as their primary method of communication. Maybe one of these people is a coworker or family member you could get to know better, if language were not a barrier. Maybe one of these people could even be your future husband or wife!
3. Research has shown that using sign language with babies and children improves fine motor skills, hastens speech development, and allows them to express themselves at a younger age. If you know someone who is expecting, basic ASL could help them connect with their preverbal infant as early as 8 months of age, whether the child is deaf or not.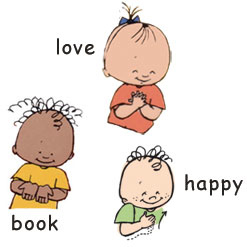 4. Signed languages have been shown to improve the level of communication in developmentally disabled children and adults, including those with Down syndrome and autism.
5. The ability to use ASL makes you bilingual. Bilingualism expands your worldview, and is very attractive to future employers.
6. Deaf culture has it's own beautiful art, music, and poetry– a whole world to discover!
7. ASL interpreting is a growing field. Perhaps, following their introduction to the language, your daughter or nephew will go on to pursue a career in interpreting.
8. The Deaf community appreciates the effort. If you work in a restaurant with a lot of Deaf patrons, you will thrill them if you know some basic signs related to their order.
9. There are more than 48 million people in the US living with some sort of hearing loss, and more than one third of people over 65 experience hearing loss as they age. ASL is a great way to continue communicating freely into your golden years.
10. American Sign Language is a complete language with it's own grammar, syntax, and words. It is expressive, beautiful, and insightful to learn.