#DidYouKnow: Deafness Around the World
On my Twitter feed, I often share #DidYouKnow facts. As a CODA, and proud advocate, I really enjoy educating curious hearing people about what it means to be deaf in America. For International Week of the Deaf, I thought it would be fun to learn, and share with you all, some things you may not have known about deafness around the world.
Did You Know?
1) The World Federation of the Deaf has 133 national association members, and represents more than 70 million deaf people worldwide.
2) There are more than 200 sign languages in use across the globe
3) French Sign Language (LFS) was the first signed language to gain recognition as an official language, in 1830.
4) LFS created the foundation for Dutch Sign Language, German Sign Language, Flemish Sign Language, Belgian-French Sign Language, Irish Sign Language, American Sign Language, Quebec Sign Language, and Russian Sign Language.
5) An International Sign Language was developed by the World Federation of the Deaf in 1951. International Sign is limited in vocabulary and considered informal, used primarily at events such as UN Assemblies, and the Deaflympics.
6) India is believed to be the country with the largest number of Deaf individuals and sign language users. Nearly one in five deaf people in the world live in India.
7) The two oldest schools for the deaf were established in Italy ~ the first in Rome in 1784, the second in Napoli in 1786.
8) Nicaraguan Sign Language was spontaneously developed by deaf Nicaraguan school children during the 1970s and 80s. Prior to this, there was no deaf community in the country.
9) Ecuadorian Sign Language is a heavy mix of ASL and Spanish Sign Language
10) In China, the first higher education institution for deaf students offers only four majors: painting, calligraphy, graphic design, and animation.
11) Deaf adults in China are not permitted to drive.
12) Northern Ireland uses a variation of British Sign Language, while Ireland uses Irish Sign Language.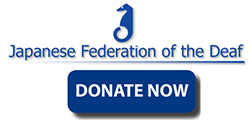 13) According to Japanese legend, dragons are deaf because their ears fell into the ocean, where they became seahorses. The seahorse is the chosen logo of the Japanese Federation of the Deaf.
14) Dominican Sign Language did not exist until the mid-twentieth century, and is approximately 90% adapted from ASL
15) Deaf Iranians are encouraged to pursue the oral method of communication, and deafness is viewed as a disability. Persian Sign Language is not recognized as it's own language– it is considered "inferior" because it does not follow Persian grammar.
16) Worldwide, it's estimated that one in every thousand babies is born with some form of hearing loss.
17) In Greece, the Deaf population suffers a disproportionate rate of unemployment. As the economy struggles, social service programs the deaf/HoH rely on have been cut, leaving citizens without accessible resources.
18) South Africa's popular Deaf television network, Deaf TV, has been airing news, soap operas, and other original programming in South African Sign Language since 1996.
19) Deaf Australians refer to Australian Sign Language as Auslan. Auslan is not a written language, so Deaf signers generally struggle to read and write in English.
20) Deaf identity is strongly tied to the use of sign language, and attempts to limit it's use are viewed as cultural oppression.