Deaf Talent Everywhere! Part III
Too often, young people who are deaf are discouraged from following their dreams. They are told "you can't…" or "you won't be able to…" and they are pushed to into careers that they are not passionate about. In reality, however, there are very few jobs Deaf people "can't" do, especially once small adjustments are made to accommodate their specific skills and abilities. At the end of the day, our society limits people more than the actual experience of deafness ever could.
#DeafTalent is a cultural movement that is gaining traction in all areas of life. Talented Deaf individuals in fields across the board are working to defy social expectations, remove barriers, and prove that there are NO limits to what people who are deaf can do. My Deaf siblings and young nieces deserve every opportunity to manifest their own destiny and accomplish their own goals without suffering the prejudice of previous generations. It's time for people to open their minds to the endless potential of our diverse population.
To explore the many facets of DeafTalent, I went right to the source: the Deaf community. Individuals working in a number of different fields were eager to communicate a message of Deaf empowerment. This is part III of an ongoing series about Deaf Talent in America; be sure to check out part I and part II , and follow along for future installments!
Melody Stein
co-owner of Mozzeria
I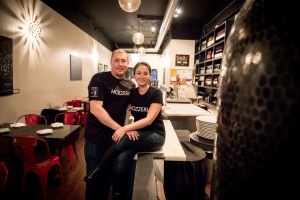 nspirations:
I was born into a family of restaurateurs and am a 3rd generation restaurateur. When my parents learned that my younger brother and I were both Deaf, they wanted to provide us better education and made the move from Hong Kong to San Francisco to enroll us at California School for the Deaf (CSD) in Fremont. While we were at CSD, my parents decided to open a restaurant in San Francisco. On the weekends when we came home, we would watch them in action – having meetings with their team, renovating the restaurant space, and testing food. I was inspired and came up with a vision of what my restaurant would look like while talking to my brother.
Fast forward to year 2009. Russ, my husband and co-owner, knew I had the dream to open a restaurant and knowing the fact that "90% of new restaurants fail within 1 year" didn't help us feel confident. We kept saying to ourselves that we would wait for the right time. We realized there is no such thing as "right time" and that we need to take charge and make it our destiny. We finally launched Mozzeria in December, 2011.
Barriers:
When I was growing up, I didn't feel different while attending CSD because I was always in an American Sign Language (ASL) environment. When we moved back to San Francisco many years later and finally decided to pursue our dream of 'opening the restaurant,' then I felt I was "different" because now I had to work with hearing people. For example, I had to go to City Hall to get the resources I needed to apply for permits. Some city employees would be great and provide an interpreter right away, but the majority of the city's employees didn't know how to approach me and found the situation awkward. I asked for paper and pen, or even if I brought my own paper and pen, they were a little resistant about writing back and forth and tried to keep talking to me. Or they would refer me to the manager instead. If a hearing person is asking for same resources or applying for the same permits, that person would be a step ahead of me whereas I would probably need to reschedule an appointment to come back and get the information or service that I needed. I realized at that moment that I had 2 jobs now – trying to open the restaurant, and educating hearing people on how to work with Deaf people.
Deaf Advantages:
Some customers told us that our food is amazing because we are Deaf and our sense of taste is greatly enhanced. I thought that was funny. Actually I never thought that way, but recently I began to see this as an opportunity to promote our culture, and hire an all-Deaf team.
Nearly all of our employees have no culinary background, but that didn't stop us from hiring them. It is our way of giving back to the Deaf community to train them. Now many of our staff are approaching their 2-year anniversary. They discovered new talents that they never knew they had. Working at Mozzeria, some discovered their true calling in the food industry. Some got a clearer definition of their dreams after watching us in action and went on to obtain higher education, and even pursue masters or PhD degrees. Some use their experience at Mozzeria to get their foot in their next job. This is the type of impact we want to see, especially within the Deaf community.
Advice:
Nothing comes easy, and you have to work hard. Never give up, and find ways to overcome. Russ would say 'effort' is the key because putting the effort in pursuing your dream is what it takes.
Joel Barish
Co-founder and CEO of DeafNation
Inspirations:

I graduated Gallaudet with TV, Film and Photography. Hollywood and TV Network had difficulty hiring Deaf people even though I had great internship with them. I decided to start a coffee shop with travel agency for 4 years before Jed (younger brother) pulled me into the internet age. That time internet was so new. We started many Deaf people with their website, business, organization, media. Started Deaflympics online in 1999 Davos, Switzerland and World Federation of the Deaf online media in 1999 Brisbane, Australia.
I met one Deaf woman at a deaf event. She told me that Deaf people only live in USA. I told her NO, there are millions and millions of Deaf people in different countries. I realized that I should do something about it. Why not start "No Barriers with Joel Barish," doing positive stories about Deaf people in different countries? I added foodie, culture experience, etc into my show showing that Deaf people can do anything; even TRAVEL remote jungle or remote locations that you never find anything about in the travel books.
Barriers:
Be Brave! No fear to communicate with anyone, even Deaf or hearing people because I have to learn their sign language and culture at the same time. I told some government officers that I don't carry interpreter in my school backpack!
Deaf Advantages:
Really no different. Just that hearing media staff would say WOW! Deaf can capture their attention. Deaf people are much friendly in different countries, easy to connect with them anywhere if we need their help or support instantly.
Advice:
No Barriers is the key– just DO IT! Do something different that other business or ideas are not same as yours. Don't do "copy-cat."
Sheena McFeely
Children's Book Author and Creator of ASLNook
Inspirations:
My life story— being the only Deaf kid in my family and raising two girls using ASL. So I channeled my frustrations into what's now called ASL Nook. Would I be where I am today without my experiences – both good and bad? No way.
Barriers:
Doing everything on my own – writing my own script, directing my own family, editing, running my own website, and posting everything on social media. But I am fortunate to have those skills to run something like ASL Nook.
Deaf Advantages:
Being Deaf and a momma to two girls – one Deaf and one a CODA – does give me the edge. But that's not it. It's working hard – I mean really hard – to get where I am today. As I get older, I'm finding out that more people like to talk than do the work. If you can do the latter, then you're ahead of the game.
Advice:
Think like a chef. When you decide to show the world your work, go out with a bang each time! And if its not good quality, fine-tune it. Work hard and walk the talk.
It is funny how everything worked out. I used to act and wanted to be a film maker. Then all changed when I realized I wanted more time with my friends, family, and life. As soon I became a mother, my children completed that circle for me. Good thing I had some experience under my belt to eventually put my acting and film making skills from many years ago to good use now. It might not be in Hollywood, but this is for something even grander. Spreading the sign to all kinds of people. That's something irreplaceable.
Do it only if you are passionate and in love with your vision. And if you do rise, be humble. It'll only take you even farther.
Braam Jordaan
Filmmaker and Advocate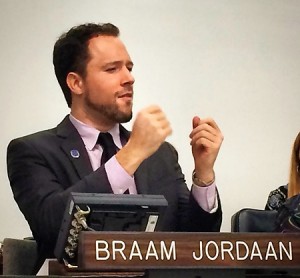 Inspirations:
(As a filmmaker) I grew up in a colorful environment. Film and animation are very visual-driven and colors are my music, my father is a wonderful storyteller and my mom a perfectionist. I naturally gravitated towards the world of visual arts and entertainment.
(As an advocate) I draw inspiration from the very community I am a part of. Uplifting the communities through my visual work, portraying strong messages of hope and happiness is a true reflection of the cultural pride I inherited as a Deaf person.
Effectively addressing the needs of different abilities called for listening to the "voices" of people with different abilities and proactively engaging them in policy decision-making. They were often overlooked in the policy planning and as result, their programmes were seldom inclusive.
Barriers:
The attitudinal barriers or bigotry are the biggest barriers I had to overcome. People are shocked to learn that Deaf people are lawyers and doctors, CEOs and managers, hold PhDs, have meaningful work, own homes and have families. We are people first, not Deaf first, and our abilities — not our disability — need to be the focus. We can do anything except… nothing!
Deaf Advantages:
Of course! Deaf culture, by its very nature is very visual. From our attuned senses, to our communication methods, we offer a very unique perspective.
Advice:
Using creative methods engages people emotionally, stimulates thinking and creates a climate for greater understanding. Make sure you do your homework and use the power of social media wisely! Advocacy work can be very tough and cumbersome but it can also be a very rewarding experience, especially when you see the difference you are making in people's lives.
These interviews represent only a small number of the countless individuals who are out there proving on a daily basis that when you have passion and motivation, anything is possible! Talented people who are d/Deaf can be found in every field at every level, working harder than most to rise up through the ranks. Deafness is not a barrier to success, but prejudice ignorance can be. I am excited and honored to share perspectives from Deaf professionals pursuing careers they love, and I look forward to future installments in this series!