ASL Interpreters: United We Stand
Thanks to social media, pop culture now spreads more quickly than it ever has before. When video of one interpreter's incredible ASL interpretations of Wu Tang Clan went viral, I was reminded of what a mixed emotional experience it is when interpreters become memes.
It is wonderful to see passionate interpreters out there serving the deaf community, and a rush of mainstream attention opens up proactive dialogue about Deaf culture. As interpreters become more visible, they become less of a "novelty" to the hearing community, and our society moves toward further integration. Unfortunately, sometimes within that dialogue, focus shifts away from deaf consumers and on to detailed critiques of the terps job performance. In my own experience, the opinions which cut deepest on every blog and forum come from those within the profession. Public criticism of other interpreters is discouraging, unprofessional, and does a major disservice to all parties involved.
When you are an interpreter, you go to work every day knowing that you are likely to be part of something important. You could be interpreting a speech, a wedding, or a job interview. Platform interpreting (that is, interpreting for a performance or public figure) is a whole different challenge, and it should not be something interpreters are reluctant to take on because they are afraid of their delivery being dissected detail by detail. When we are judging and picking other interpreters apart, we're forgetting the consumer. If an interpreter feels qualified enough to take the job, and they succeed at what they were hired to do; being overly-critical on the internet accomplishes very little.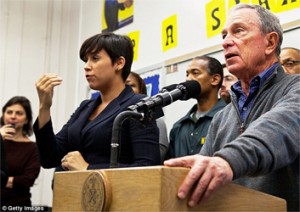 As I have mentioned previously  I strongly believe that interpreters require constant peer evaluation to continue evolving. Tearing another interpreter down in a public forum is counterproductive to these efforts. Those within the profession should be well aware of the vulnerability and nervousness one feels before interpreting in front of cameras or a crowd. As discussed on Street Leverage, the increased presence of cameras and social media at events has created an atmosphere where qualified interpreters are turning down prospects because they afraid of ridicule. We need to stop fearing vulnerability and begin appreciating that quality in each other– it will take a concentrated effort on the part of the interpreting community to do so.
At the end of the day, interpreters need to remember we are blessed with the opportunity to serve the Deaf community in a unique way. We should be working together, not against one another. Whether we are novice or veteran terps; whether we are deaf, CODAs, or hearing; we are all here to provide and promote equal access for the Deaf community.When done in a respectful and private manner, constructive criticism can lead to improved service, and professional growth. If entertainment interpreters are the catalyst to social change, exposing hearing people to deaf culture, I think the interpreting community has a responsibility to unify.