Deaf Community Working to Change Perceptions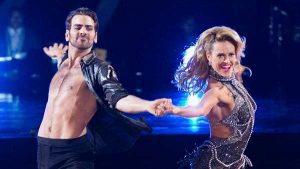 Over the last few years, there has been an exciting trend of Deaf influence on mainstream culture. We are seeing deafness featured in entertainment: from the critically acclaimed DeafWest production of Spring Awakening on Broadway, to various reality TV shows, to the new Smirnoff ad campaign featuring deaf dancer Chris Fonseca. But media visibility is just the tip of the iceberg. There is a massive cultural shift underway— a change in power structures happening right below the surface— and this movement is being spearheaded by d/Deaf/HoH people themselves.
The past half century has seen mounting advocacy efforts improving access to education, thus creating a positive cycle of change. The ADA combined with ongoing deaf rights movements has helped the community work toward better access in schools across the country. A well-educated population is generally more effective at communicating their grievances, calling for reform, and permanently impacting social policy.
The exponential effect of education is the cornerstone of the recent Language Equality and Acquisition for Deaf Kids (LEAD-K) campaign. A Deaf-created movement to promote ASL use and bilingualism among deaf children, LEAD-K asserts that "language deprivation or delays between ages 0-5 is the main cause of Deaf children's eventual reading, academic, and social struggles." By working with schools, community agencies, parent organizations, and associations of the Deaf, this movement strives to help deaf children stay on par with their hearing peers during critical early development stages. Those at LEAD-K have turned their own experiences into opportunities for generations to come, which in turn has a spiraling effect. Imagine how the future will be shaped by large numbers of teachers, tech innovators, medical practitioners, and politicians who just so happen to be deaf!
Living in this digital age, the Deaf community is more well-informed and connected than ever. Where, in the past, people who are deaf were often excluded from discussions about current events, they are now able to participate and voice in on the issues. Where people who are deaf were once segregated by language and distance, they are now able to strengthen and reinforce the narrative of the Deaf community through online discussions. The d/Deaf community can now easily communicate, organize, and mobilize for action.
Technology, specifically the Internet, has played a key role in the modern deaf rights movement. People are able to tap into a wealth of global knowledge from anywhere at any time, and they can just as easily contribute. Social media and video sharing sites have become bustling hubs for deaf content— ranging from activism to entertainment and everything in between.
Published on YouTube in April 2016, "Beyond Inclusion" is a thought-provoking short film produced by Communication Service for the Deaf (CSD), the nation's largest nonprofit advocacy organization for the deaf, deaf-blind, and hard-of-hearing communities. Set in the near future, featuring deaf Dancing With the Stars and America's Next Top Model winner Nyle DiMarco, this film tackles the controversial issue of "curing" disabilities and challenges audiences to reconsider the value of diversity. Launched with a corresponding social media campaign, the goal of this film is #DeconstructingDisability through open cross-cultural dialogue. CSD is only one of many different deaf groups, organizations, and individuals utilizing the speed and efficiency of the Internet to facilitate cultural understanding.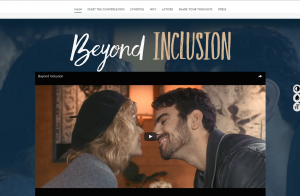 Technology offers d/Deaf people a new set of tools to create meaningful connections and makes it easier than ever for individuals to participate in community advocacy efforts. But there are times when the most effective way for deaf people to raise awareness in the hearing world is to make themselves visible via public protest. Last year, there was a two-day Deaf Protest in Washington, DC where more than 1,500 Americans marched for fair opportunities in employment. There have also been small protests at various schools to rally for deaf representation in education. In May of this year, The Deaf Grassroots Movement (DGM) successfully held protests at state capitols across the nation, bringing awareness to a variety of deaf issues including access to communication, education, and employment. These deaf-led efforts are increasing in frequency and gaining traction as they continue.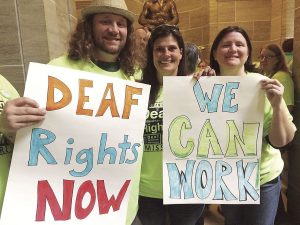 In this age of activism, we are witnessing a massive shift in social power. People who are deaf no longer need the help of hearing media gatekeepers to share their own stories with the world. People who are Deaf now have the tools for communicating and community organizing right at their fingertips. Deaf culture is trickling into mainstream consciousness, forcing our society to finally let go of harmful stereotypes and misconceptions. Deaf people are reframing the very concept of deafness to better reflect the unique people who proudly wear that identity.