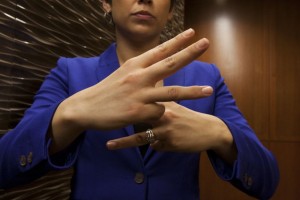 There are over 48 million people in the United States living with some sort of hearing loss. What if you met one of these people– at work, at church, at a cafe, at the club– and you wanted to have a conversation with them? What if your mother, significant other, or child were to become deaf? Language should be a method of communication, never a barrier.
LC Interpreting Services is pleased to offer customized one-on-one ASL training sessions for all levels. From beginners onward, my courses are tailored to fit your needs. Private lessons provide not only sign language training, but insight into cultural norms and deaf history, as well.  Whether you need a refresher, a crash course, or want to learn ASL to fluency, I offer the individual attention that makes learning a new language fun.
If you would like to set up a consultation, send me a message through the contact tab above. If you live outside of the New York City area or Westchester county– I also offer Remote Video ASL lessons (via Skype, Facetime, etc) as well, so please don't hesitate to learn this beautiful language from wherever you may be!