About Me
---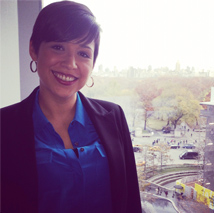 My name is Lydia Callis, and I am a professional American Sign Language Interpreter. I am also an advocate for the Deaf and Hard of Hearing community. Bringing people together is my passion, and I am honored to share it with the world!
My Native Language
Sign Language was my first language, as my mother and three younger siblings are all profoundly deaf. At a time when there were no laws enacted to accommodate the deaf and hard of hearing, I saw the daily struggles my family members endured. I began interpreting to help my family communicate, and to make sure I stayed fluent in the language of my roots.
The Pursuit of Happiness
After graduating from Phoenix College with an Associates Degree in Interpreter Preparation and a Certificate in Deaf Studies, I was offered a staff interpreting position at the Rochester Institute of Technology.

Rochester, NY has the most deaf and hard of hearing individuals per­ capita in the United States, and a number of prestigious schools which cater to the deaf community. Training at the National Technical Institute for the Deaf, I worked with and learned from some of the very best in the field. I graduated from NTID/RIT with a bachelors degree in ASL ­English Interpretation, and continued to work with the deaf community in Rochester for two more years. I then moved to New York City, to begin a new chapter in my life and career.
Goals & Success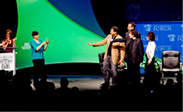 Here in New York City, I am associated with several quality interpreting agencies, and have active involvement in the Deaf community. The opportunity to assist Mayor Bloomberg during Hurricane Sandy was an achievement through persistence, motivation, and hard work. I am honored that I was able to help our city during a time of disaster, and thrilled that my subsequent "fame" brought ASL into the spotlight.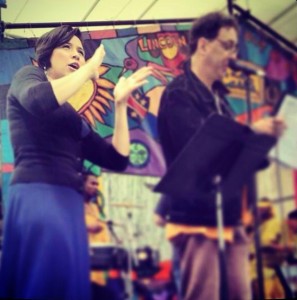 Throughout the past year, my assignments have been wonderfully diverse. I had the distinct privilege of interpreting for the Connecticut Forum, and for the president of NTID in Washington, DC. I was requested as an interpreter on The View, and the Food Network show Chopped. I have given a number of presentations in support of RIT/NTID, and was featured in a science video for the New York Times interactive. I have volunteered my services for NYC Shakespeare in the Park, as well as GLBT advocacy groups.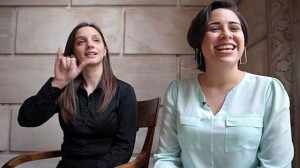 I am proud to be part of Access NYC– an ongoing effort between the Commissioner of Disability and prominent members of the Deaf and Blind communities. The goal of Access NYC is to establish provisions for differently abled tourists and citizens, so that everyone can enjoy what New York City has to offer. It is my personal goal to educate higher institutions about working with deaf employees and clients. I believe creating cultural awareness from the top down is the most effective method of establishing two-way communication between businesses and the deaf community.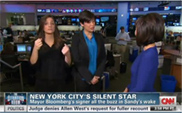 As I lay the foundation for my dream, I know bigger and better things are always on the horizon. Connecting people is my purpose, and I am humbled to serve both the Deaf and hearing communities through ASL interpreting services, ASL training, ASL mentoring, and active Deaf/ HoH advocacy.
Education & Certifications
---
DEGREES:
Phoenix College
Associates Degree in Interpreter Preparation
Rochester Institute of Technology/National Technical Institute for the Deaf
Bachelor's Degree in ASL-English Interpretation
Minor in Psychology/Concentration in Communication
CERTIFICATIONS:
National Interpreter Certification: Knowledge exam
Deaf studies Certification
Sign Language Communication Pre-Employment Certification